Skullding Hot
Normal price
Offer price
€11,95
Unit price
per
Sale
Unfortunately sold out!
This "Namaste Home" scented candle is like meditation in a jar. Take a seat, make yourself comfortable and let the soothing atmosphere of white lotus and peaceful scent surround you. This candle creates a moment of self-care and meditation, even if you are not a seasoned meditator.
Whether you are in the middle of a busy work week or your days are full of appointments, this candle will help you return to your inner peace. It is an invitation to slow down and give yourself some space. Light the candle, breathe deeply and enjoy the precious moment for yourself. You deserve it, sweety! 

Namaste Home spreads a subtle aroma throughout your room and has a softer effect compared to wax melts. The candle is made from ecological soy wax and is cast in recycled glass. In addition, the scented candle is supplied in recycled cardboard packaging, for an ultimate sustainable feeling.


Details Namaste home scented candle
Format: 8,5 x 7,5cm 
Weight: ± 150 gram
Burning hour: ±30 hours 
Would you prefer a scented candle with a personal text or message? As a congratulations, get well soon or just like that?  Mail ons Don't worry, we are happy to take requests!
Share
View all details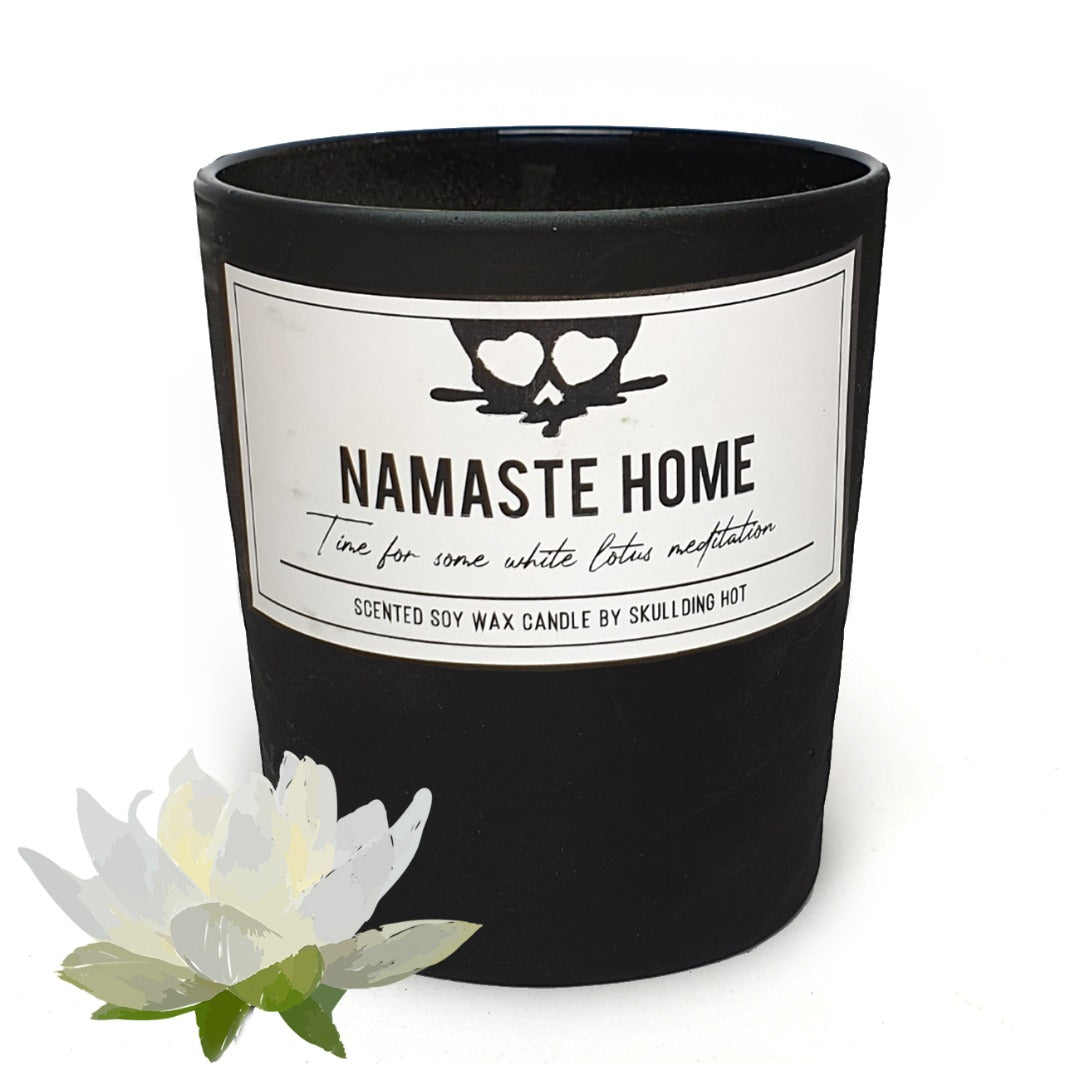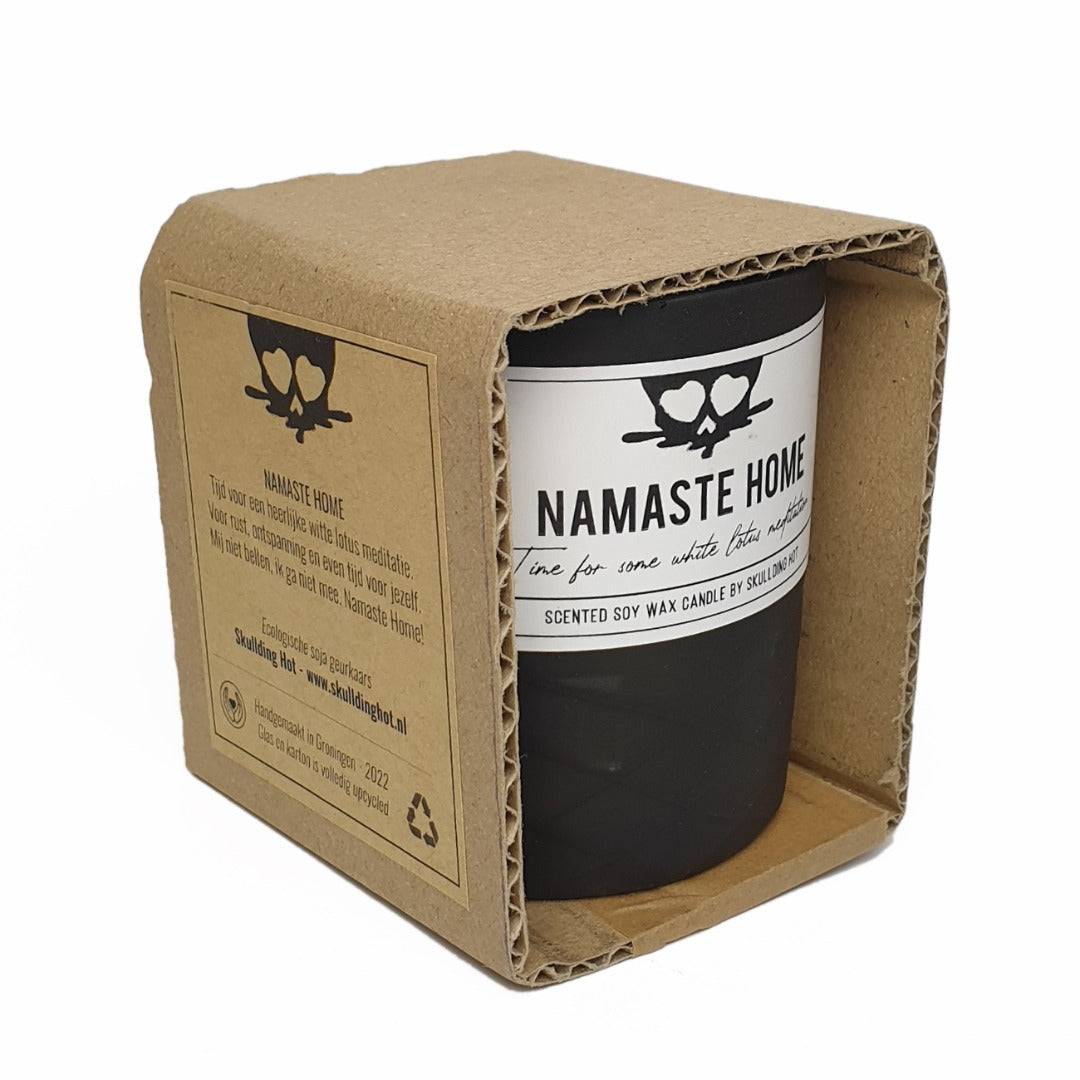 Extra info:
About scented candles from Skullding Hot

Scented candles from Skullding Hot are true gems among candles, infused with wonderful aromas to pamper your senses and envelop your home in a warm and inviting atmosphere. The scented candles are made from a mix with ecological rapeseed wax and coconut wax, a sustainable and vegetable wax that is completely biodegradable. Because the scented candles do not contain paraffin, it is not harmful to humans and animals. We even receive compliments from people with allergies, asthma or COPD. Isn't that hot?

With scented candles you can effortlessly create a magical and soothing atmosphere for every moment. The Skullding Hot scented candles are handmade and all have their own unique twist.
General safety scented candles

Place the candle on a stable, heat-resistant surface and light the wick. Let the magic unfold as the candle burns and gradually releases its wonderful scent. Relax and enjoy the calming ambiance that spreads through your home.

Supervision: Always keep an eye on scented candles when they are burning. Blow out the candles before leaving the room or going to sleep.

Fire place: Place the candles in a place where they are stable and away from flammable materials such as curtains or paper.

Keep out of reach of children and pets: Make sure scented candles are kept out of the reach of children and pets to avoid any accidents.

Burn time: Let scented candles burn for a minimum of 1 hour and a maximum of 4 hours. Extinguish the candle when there is about 1cm of wax left to prevent the glass from cracking.

Burning in an open space: Make sure the candles are burning in a well-ventilated area to minimize smoke build-up.

Follow these simple safety rules and leave your worries behind as you immerse yourself in the enchanting world of scented candles!

Dispatch

Wax melts are sent by parcel post.

Do you live around Groningen? Then pick up is also an option.
Feature a compelling customer review about your product or brand.