Everything about wax melts
What are wax melts?
It's the most frequently asked question I get: "What are wax melts?" Wax melts are small pieces of wax that are placed in a scent burner to spread scents and aromatherapy. The wax melts are heated and melted by the scent burner or electric wax warmer, causing the scent to slowly release. They are actually a kind of mini scented candles without wick! The advantage of wax melts is that they are further away from the heat source (flame), so you can enjoy your favorite scent longer (and more effectively!). With wax melts you can change scent faster and respond to the moment or your feeling.
Skullding Hot has more than 150 scents. Go on a journey of discovery and find your new favorite! Do you miss a certain scent? Please feel free to contact us, we will be happy to search for you!
This page will provide answers to the following questions:
How do you use wax melts?
How long does a wax melt last?
Are wax melts bad for you?
What are good wax melts?
How can I replace or remove a wax melt?
Are wax melts safe for animals?
Are wax melts vegan? 
Why do wax melts turn white?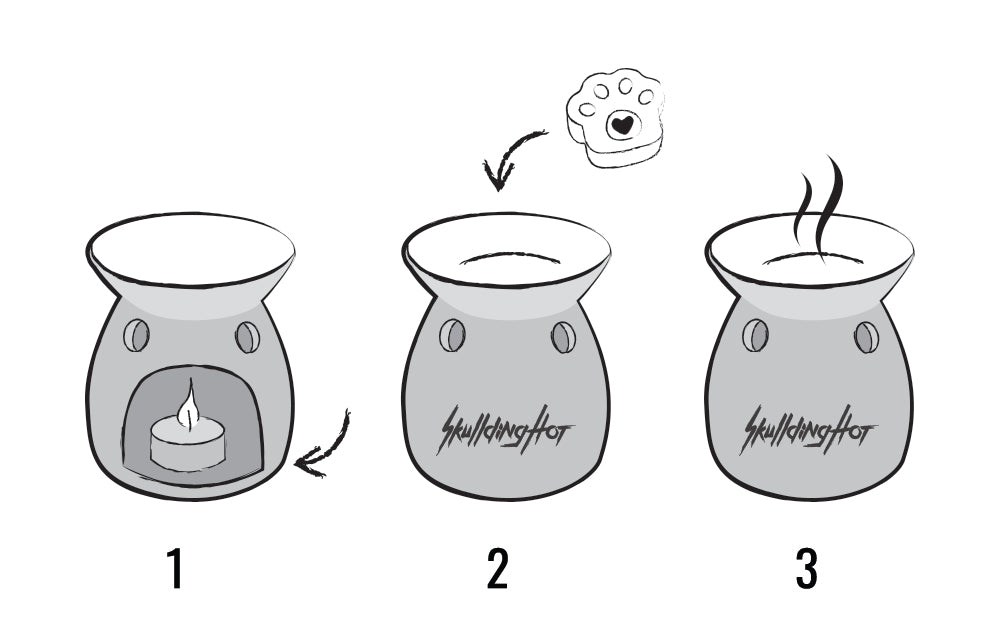 How do you use wax melts?
Using wax melts is very simple!
Step 1: Heat the wax warmer or light a tea light and place it in the scent burner.
Step 2: Put your favorite wax melt scent in the bowl of the burner.
Step 3: Within a few seconds the wax melt will start to melt. The magic begins, enjoy sweety!
How long does a wax melt last?
 At Skullding Hot you receive a bag with (usually) two wax melts in the shape of animal paws. Cute huh? Well, handy, right? This way you don't have to break or chop anything. You cannot walk on one leg, so we will give you 2 blocks of 7-8 grams so that you can alternate more quickly. 
One block lasts about 4 to 6 hours. This depends on the scent burner you use and where you place it. The closer the flame is to the dish, the faster the evaporation process. If you place the scent burner near a doorway or in a place you often walk by, the evaporation process will also go faster.

After 4 to 6 hours you can easily switch to another scent or add the 2nd block for an extra scent boost!
Are wax melts bad for you?
Not as long as you choose ecological. Skullding Hot makes wax melts from ecological rapeseed wax that is enriched with delicious and special fragrance oils. The wax melts do not contain paraffin like regular wax melts (for example scent chips or bolsius) or scented candles from many stores. Paraffin? Yes sweetie. This is extracted from petroleum and gives candles an unnecessary gloss layer. In addition, it often gives that sickly smell and causes headaches for many people. For many happy customers, this is now all a thing of the past! 
What are good wax melts?
Good wax melts are made from natural ingredients and not based on paraffin.
Skullding Hot works as sustainably and ecologically as possible. We use environmentally friendly rapeseed wax which is enriched with different oils (both essential oils and perfume oil), which differs per wax melt. Plus have you discovered the hypoallergenic collection yet? 🖤

We love pink, but think green as much as possible! Read more about this here the ecological and green choices van Skullding Hot.
How can I replace or remove a wax melt?
Do you want to change scent or does the wax melt no longer emit a scent? By using ecological raw materials, Skullding Hot wax melts are easy to remove. There are several options:
To remove soft wax melts:
Is the wax still hot? Grab a piece of paper towel or toilet paper. Place this in the bowl of the fragrance burner and let it absorb with the wax. You can then throw away the paper with the wax and don't feel guilty! Rapeseed wax is completely biodegradable. If necessary, grab an extra piece of paper to remove the last bits of paper and wipe the bowl clean. Tada, everything is spick and span again!
To remove solidified wax melts:
Rapeseed wax is ideal for removing when it is completely hard and you can often quickly 'scoop' it out of the saucer by pressing the side with a finger.
Note: Do not use a knife or other sharp objects! This damages the burner.
Is scooping not working? Light the tea light or electric wax warmer again so that the underside softens. You can still 'scoop' the wax out within a few seconds. Just wipe off the last residue with a paper towel and Tadaa! A child can do the wax!
Are wax melts safe for animals?
Purrr, yes! The wax melts are made from a nature and animal-friendly rapeseed wax. When melting down, no harmful substances such as paraffin are released. Compared to incense and air fresheners, these ecological wax melts are also a safe choice for pets. It's not without reason that we pour (almost) all wax melts in the shape of animal paws... all love for pets!