Skullding hot provides unique scent explosions for your interior and completes your home! The home made ecological wax melts and candles in special shapes are central to this. We also try to supplement our collection with unique products to make you feel completely at home and yourself. From scented sticks in your favorite scent, alternative home and beauty accessories and quirky scented candles. We keep it hot!
Stay hot, keep it green!
Skullding Hot was created from a love for home perfume, skulls and glitter. A combination that has found a great way to give your interior an even more beautiful color and scent.
We try to think about the environment as much as possible and pay attention to raw materials, packaging and even during shipping we do a lot of reuse. You can read more about this on our ecological page. We do our utmost for you, all pets and nature. ♻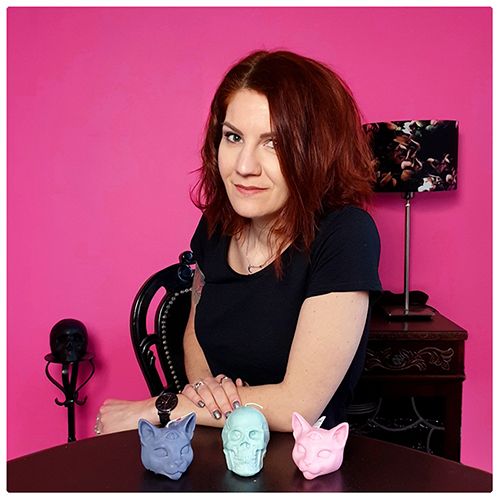 How is Skullding Hot?
Skullding Hot is run by me: Linda. Hi!

My love for wax melts started in 2010. I love the moment, the experience and how scent can influence your mood. Six years later I started casting them myself. Gosh, what a boring process that was! As a designer, I was looking for a new way that was fun, cool and, above all, environmentally friendly. With special shapes, a heart of glitter and with an alternative touch (just like me!)🐾
Many people find wax melts too much of a hassle, which is why I started expanding with candles: skull candles 💀
Everything goes my way and one thing leads to another. With a stubborn approach, I can make more and more people happy with my love for glitter, skulls and ecological home perfume. I like to be inspired by the 80s, the 90s, creative puns and the power of women.

It keeps getting bigger, more fun and it motivates me every day to turn your orders into a bright pink party. With the help of those around me I never feel alone and thanks to your support we make the world a little more beautiful again.

I think that's Hot: Skullding Hot!