Skullding Hot
Normal price
Offer price
€9,95
Unit price
per
Sale
Unfortunately sold out!
This skull candle dark blue is a handmade and unique scented candle that completes your interior. They are personally poured for you in the scent you want. Sounds fantastic, doesn't it? It is!
Give the skull candle a place of honor on your cupboard, show it off on the toilet shelf or use this new friend on the table during a romantic evening. This skull candle will find its place on every occasion and in every room. This special skull candle brings coziness, atmosphere and shows that we are all equal. Then the discussion often arises: to light or not to light? Don't panic sweety! The skull candle smells incredibly good on its own, so it spreads a wonderful scent in a small space or in indirect sunlight. Really and truly? Really and truly.

The skull candle is made in such a way that it does not burn completely, so that the front largely remains in shape. This way you can also burn half of the dark blue skull candle and it will still remain a special interior candle. 

With a weight of ± 250 grams, this new skull scented candle about 15 hours of burning love. The skull candle is made from ecological rapeseed wax which is biodegradable. Just like real skulls! (Read here more about our ecological working method) 
Details dark blue skull candle:
Are you looking for a specific or different scent? Mail especially us and we look at the possibilities. We are happy to take requests!
Share
View all details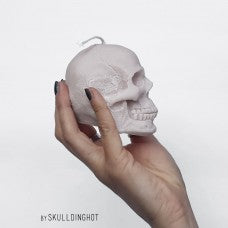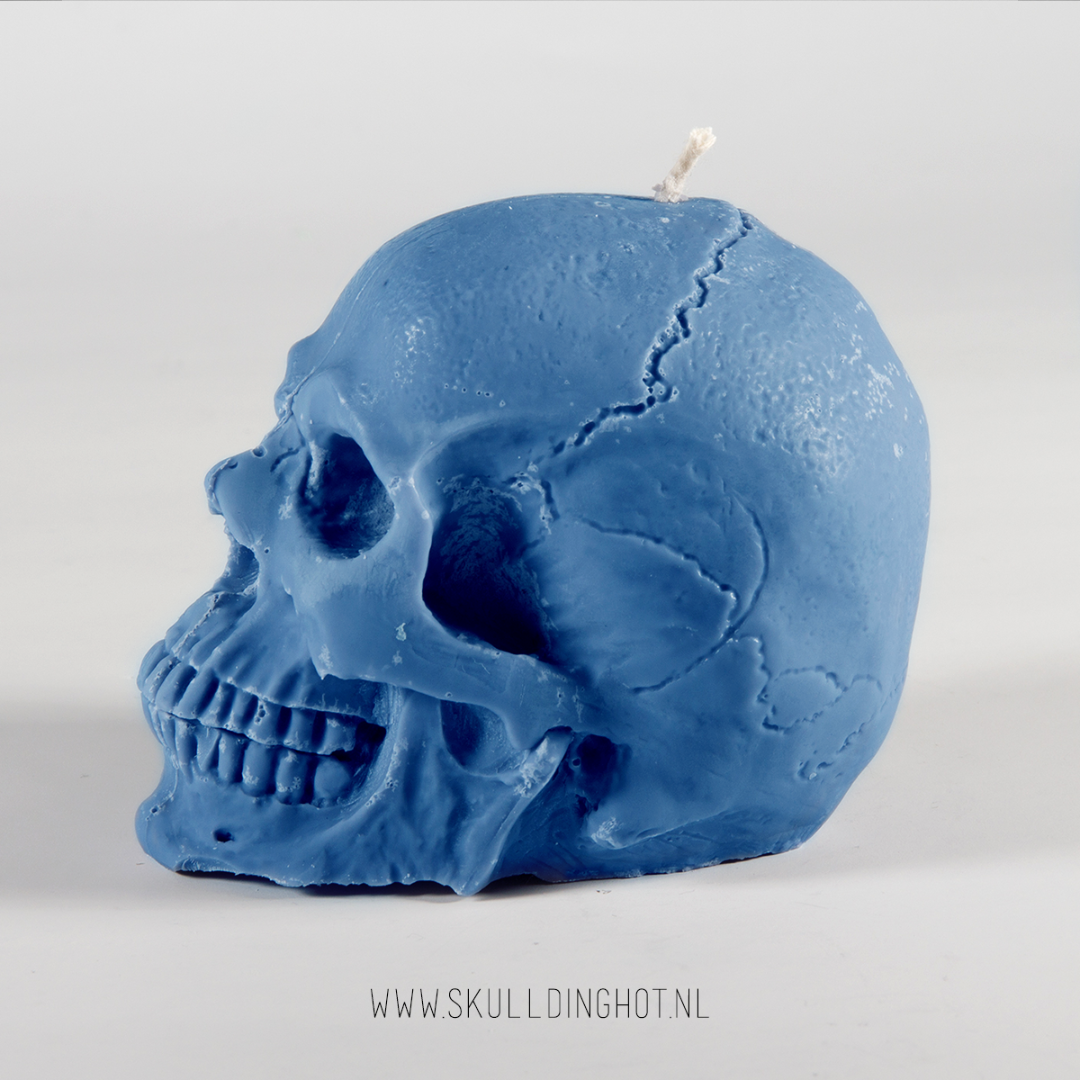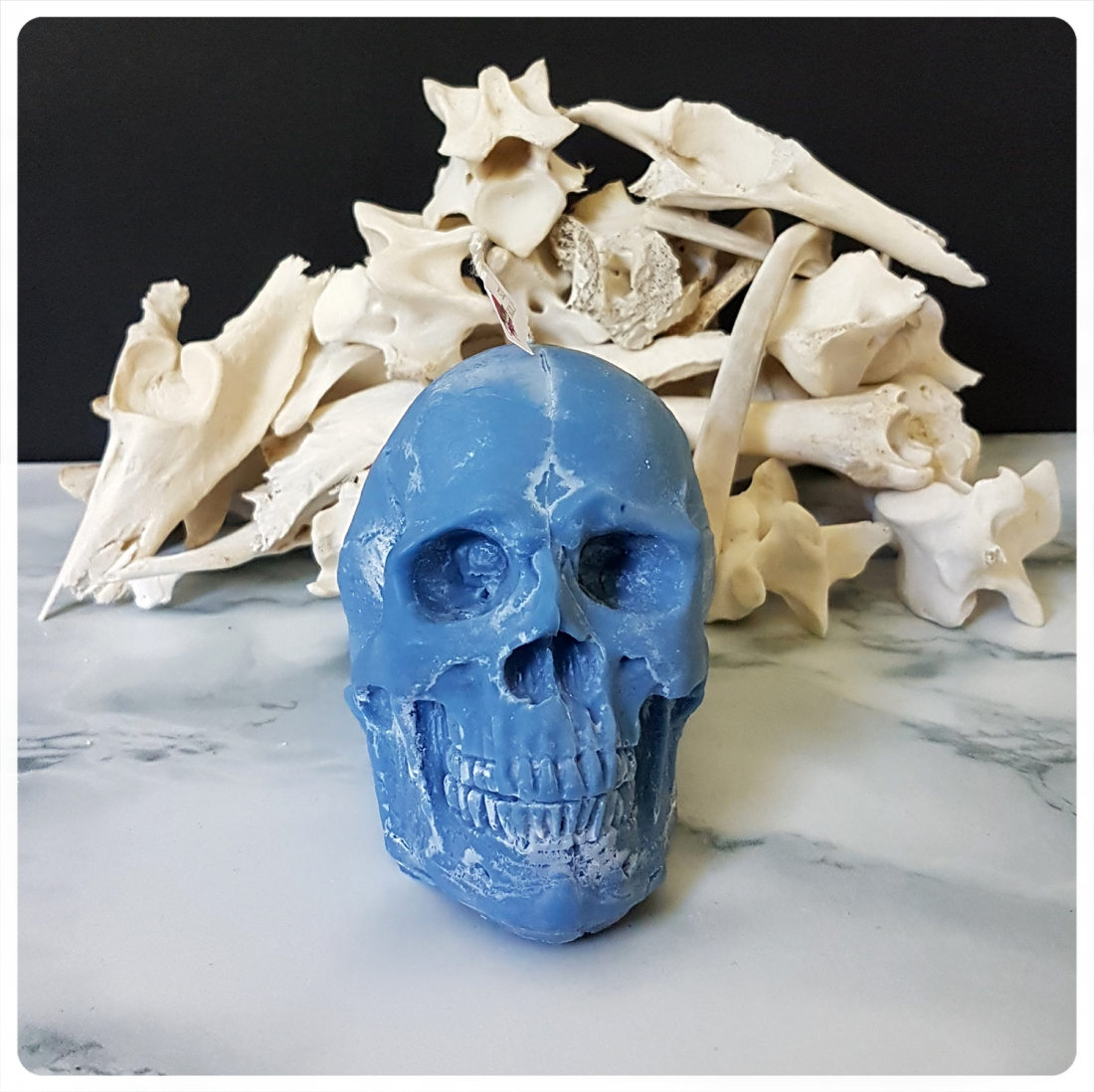 Extra info:
Skull candles from Skullding Hot

Skull candles are beautiful scented candles in the shape of a skull. Choose your favorite color and scent, and create a candle that reflects your personality.

The scented candles are made of ecological rapeseed wax, a sustainable and vegetable wax that is completely biodegradable. Because the scented candles do not contain paraffin, it is not harmful to humans and animals.

Due to the ecological choices, the skull candles already have a strong scent, so you don't even have to light them for the scent experience. With a little heat from the outside air, the scent is released and you can enjoy your new interior piece to the fullest!
Tip: Rinse it occasionally under the tap to ensure it is dust-free again.
General safety scented candles

Give your new hubby a heat-resistant surface to catch the wax! Fortunately, we use ecological raw materials that are easy to dispose of; a bowl or plate saves you a lot of work. Place the candles in a place where they are stable and away from flammable materials such as curtains or paper.

Do not place the skull candle in a draft, for example at a window or door opening. This disrupts the burning process and there is a good chance that the candle will smoke and/or drip.

Before lighting: Cut the wick to 0.5 cm – 1 cm. The candle will burn slowly in this way and you will save burning time, score!

Supervision: Always keep an eye on scented candles when they are burning. Blow out the candles before leaving the room or going to sleep.

Keep out of reach of children and pets: Make sure scented candles are kept out of the reach of children and pets to avoid any accidents.

Burning in an open space: Make sure the candles are burning in a well-ventilated area to minimize smoke build-up.

Follow these simple safety rules and leave your worries behind as you immerse yourself in the enchanting world of scented candles!
Dispatch

Skull candles are shipped by parcel post. They are personally cast to order, so they are shipped within 1-3 working days.

Do you live around Groningen? Then pick up is also an option.
"Very detailed and the skull candle smells fantastic! It looks beautiful in my living room and lighting is really not necessary"