Skullding Hot
Normal price
Offer price
€10,95
Unit price
per
Sale
Unfortunately sold out!
Of the Lesbian crush - The Limited Cat candle there is only one!
The Limited edition candles are cast from residual wax, which is left over from pouring personalized candles, wax melts or candles that are damaged. At Skullding Hot, candle wax is completely reused and transformed into a unique eye-catcher. Sustainable, zero waste and ultimate feeling of happiness. Stay hot: keep it green!
Give the candle a place of honor in your interior (there's only 1, baby!) or place it during a special moment where this marble cat candle completes the coziness. Or give this special candle as a gift! With a weight of ± 190 grams, this special candle offers approximately 10 hours of burning love.
Prefer one cat candle in a self-chosen scent and color? No problem! Feel free to take a look around cat candles

Details cats

 

candle

Lesbian crush
Format:

 

10 x 8,5 x 7cm (LxBxH)
Weight: ± 190 gram
Burning hour:

 

±10 hours 
Share
View all details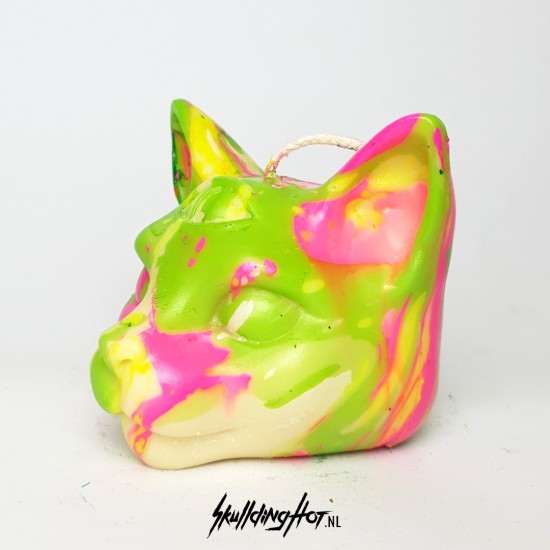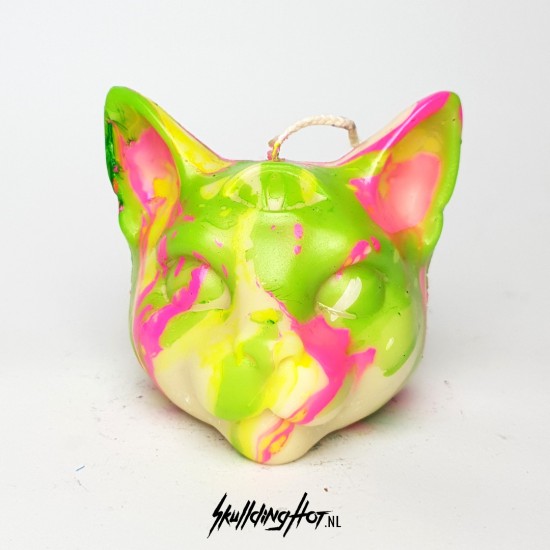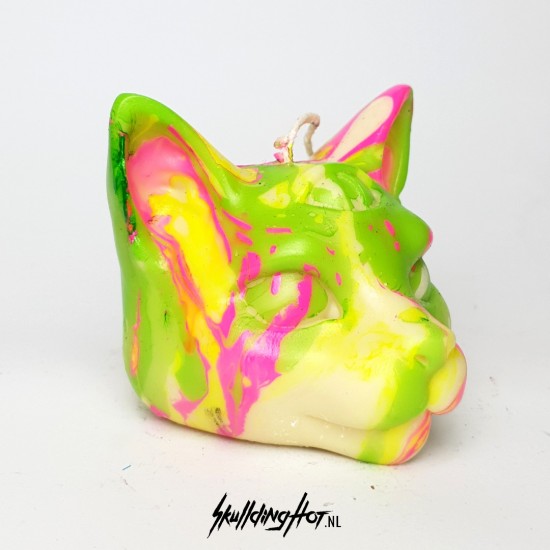 Extra info:
Cat candles from Skullding Hot

The cat candles from Skullding Hot are beautiful scented candles in the shape of mystical cats. Choose your favorite color and scent, and create a candle that reflects your personality.

The scented candles are made of ecological rapeseed wax, a sustainable and vegetable wax that is completely biodegradable. Because the scented candles do not contain paraffin, they are safe for both humans and animals. Thanks to the environmentally friendly choices, the cat candles spread a wonderful scent, even without lighting them. A touch of heat from the ambient air releases the scent, so you can fully enjoy your new interior piece!

Tip! Give the candle a short rinse under the tap every now and then to keep it dust-free.
General safety scented candles

Give your new feline friend a heat-resistant surface to catch the wax! Fortunately, we use ecological raw materials that are easy to dispose of; a bowl or plate saves you a lot of work. Place the candles in a place where they are stable and away from flammable materials such as curtains or paper.

Do not place the cat candle in a draft, for example at a window or door opening. This disrupts the burning process and there is a good chance that the candle will smoke and/or drip.

Before lighting: Cut the wick to 0.5 cm – 1 cm. The candle will burn slowly in this way and you will save burning time, score!

Supervision: Always keep an eye on scented candles when they are burning. Blow out the candles before leaving the room or going to sleep.

Keep out of reach of children and pets: Make sure scented candles are kept out of the reach of children and pets to avoid any accidents.

Burning in an open space: Make sure the candles are burning in a well-ventilated area to minimize smoke build-up.

Follow these simple safety rules and leave your worries behind as you immerse yourself in the enchanting world of scented candles!
Dispatch

Cat candles are shipped by parcel post. They are personally cast to order, so they are shipped within 1-3 working days.

Do you live around Groningen? Then pick up is also an option.
"I've had the scented candle for a few days now and I'm so happy with it. The shape is super nice and it smells great!"