Skullding Hot
Normal price
Offer price
€7,95
Unit price
per
Sale
Unfortunately sold out!
Of Rise and shine olieroller is a wonderfully refreshing mix of mandarin, grapefruit and lime. This cheerful scent mix ensures alertness, positivity and well-being. Just how we like it! The roller can help relieve fatigue, stimulate a clear mind and create a cheerful and refreshing atmosphere. Rise and shine sweety!
About the Rise and shine oil roller fragrance combination:
Mandarine: Mandarin has a sweet, citrusy scent known for its uplifting and calming properties. It can help reduce stress and anxiety, promote a sense of joy and boost a positive mood. Mandarin is often used to promote relaxation and a sense of well-being.

Grapefruit: Grapefruit has a refreshing citrus scent known for its energizing and revitalizing properties. It can help reduce fatigue, boost alertness and promote a positive mood. Grapefruit is often used to refresh the mind and give a feeling of renewed energy.

Lime: Lime has an invigorating, citrusy scent known for its uplifting and refreshing properties. It can help reduce mental fatigue, stimulate clear thinking and promote a positive mood. Lime is often used to create a feeling of vitality and freshness.
Details Rise and shine olieroller
Contents: 10ml
Odor: Mandarin, grapefruit and lime
Weight: 40 gram
Share
View all details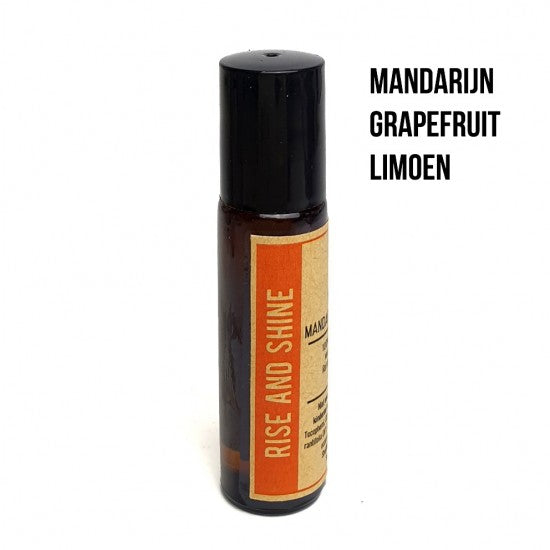 Extra info:
Discover the power of essential oil rollers

All oil rollers from Skullding Hot are made from 100% natural essential oils in a soothing base of Vitamin E-bearing oil. Each roller is specially formulated with a perfect combination of oils that work together to achieve goals. Think of relaxation, energy, enlightenment, happiness and much more. Roll-ons are becoming increasingly popular in aromatherapy and are ideal for on-the-go use.
The benefits of essential oil rollers

The benefits of Skullding Hot essential oil rollers:

Pocket size: The roll-ons are compact and handy, making them easy to take anywhere. Perfect for on the go!
Uplifting scents: Each blend is carefully crafted for a unique fragrance experience.
Easy to apply: Thanks to the handy roll-on, you can easily apply the oils to the desired areas. Behind your ears, your wrists, your neck or wherever you like. 

Not

 for internal use. 
Dispatch

Scented burners are sent by letterbox post. So you don't have to stay at home for it!
Do you live around Groningen? Then pick up is also an option.